BIRMINGHAM RECORD COLLECTORS
DEDICATED TO THE COLLECTING OF MUSIC, ITS PRESERVATION, AND LASTING FRIENDSHIP
MONTHLY MEETING THIS SUNDAY, SEPTEMBER 10th 2017
2:00 PM HOMEWOOD LIBRARY – 1721 OXMOOR ROAD 35209
NEXT MEETING SUNDAY, OCTOBER 8th, 2017 THE SECOND SUNDAY
THIS MONTH'S MEETING
Our September meeting will be spent reviewing last month's record show. We'll want to hear the pros and the cons so we can make sure we make the show even better next year.
I want to thank all those who volunteered to help do all the pre-show stuff, helped during the show and helped clean up and do post-show stuff. I will say that next year we will need more to volunteer. It takes the load of those who helped in 2, 3 and sometimes 4 areas. I know you can do it.
I was left with many fun memories about the 2017 show and some positive quotes from attendees and dealers. One thing I want to mention was an interesting thing that happened. I was helping at one of the tables and while there a mother, probably in her 30's stopped with her 3 children, ages 3-7. I was putting a record on a turntable to hear it and the little boy said in Christmas morning awe, "Mama, a record player." The mother just keep digging through LP's on the floor so I continued to play other records just to watch the boy and his younger sister stare at the turntable and never take their eyes of it. I made sure I played some good, fun records as they watched. It was like they had just seen an invention from the future. Really fun to see.
I also wanted to mention two quotes I got from two very happy attendees. I heard many quotes just like these and the thanks goes not only to the BRC members but to our dealers who bring some great vinyl to sell and work with the customers on pricing. Thanks to you guys and gals also. The first quote is an email from Bob who is owner and President of the Sundazed Music – check them out at sundazed.com
"Great to see you this weekend! I just wanted to drop a quick note to say thanks – and to let you know that this past BRC show was once again one of the very best record conventions I've ever had the pleasure to attend… I can't tell you how incredibly nice it is to be at such a well put-together show; professional, accommodating in every way, and filled with friendly folks like yourself. To you, Jack and the others, thanks much for letting me be a part!!! (And, thanks for remembering my "official" membership card!)"
And from David who comes from Louisiana to attend the show I was told what he likes about the show is the international flavor. It's good to see so many who come from, Europe, Britain, and Japan to buy vinyl. He says our show is one of the best and he hopes we continue to spread the word and grow.
And grow we have. Last year an estimate of approximately 700 people attended the show. This year we estimate approximately 730-750 people were in attendance.
Someone asked me if there was another event going on during the same time as ours due to the number of cars in the parking lot – there was not. We added 8 new lifetime members and 15 purchased one year memberships. Welcome!
And let's also thank the staff at the Gardendale Civic Center. This was our 4th year at the center and it has worked well for us. Large aisles for customers to walk through and not bump into people looking through records, a snack room, plenty of parking, an ATM machine, and a friendly staff. We look forward to continuing our ties with Gardendale.
It was another great record show for BRC and we look forward to the 2018 show. Plan on being with us again and bring a friend. Next year let's shoot for 800 in attendance. See ya there!
A SWEET RIDE
Restoring a car- and some memories along the way
Here's an article sent to me by a BRC member. It was written by Chad Jones. It concerns BRC Music Hall of Fame member, Roscoe Robinson. Roscoe spent some time at our record show last month. If you were there I hope you got to talk to him. Hope you enjoy.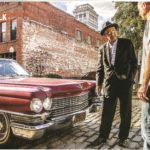 Last week I was able to do something I've been wanting to do for a few years. One Friday afternoon in 2010, I was sitting at my computer looking at cars on Craigslist. I came across a classic 1963 Cadillac for sale in Lexington, KY. The ad had just been posted. I told my wife, Amanda, that I wanted that car. So, we jumped in the truck and headed to Lexington.
When we got there and saw the car it was just as described. It was a one-owner, all-original DeVille from California. The wife of the gentleman who had it had grown up with this car, and she inherited it when her parents passed away. The car still had the first and only 1963 black California license plates on the front and rear. So, of course, I bought the car and brought it home. I was happy with just knowing this story that came with the car. But there's more.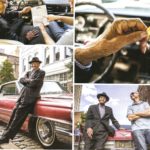 A few days later I was working on the radio and happened to be looking under the dash. There was a piece of paper folded up and stuck between the radio and the dash. l carefully pulled it out and unfolded it. 1t was a brittle receipt from a Buick dealer in Chicago, Ill. dated March 9, 1963. The name on it was Roscoe Robinson.
At this point I was intrigued. The last name of the original owners was Dean, and the car was from California. Why was there a receipt with Roscoe's name on it in the dash! It didn't take much research to find out that Roscoe Robinson was a famous musician in the '40s, '50s and '60s and lived in Chicago. The address on the receipt placed Roscoe's home address within just a few miles of three major record labels from the '50s and '60s. One of them was Chess Records.
Lots more searching turned up information that Roscoe had several hits and sang with Sam Cooke, among other artists. What I could not find was how to get in touch with Roscoe. So, 1 kind of forgot about the mysterious paper for several years, but then one day I was in the garage admiring the Cadillac when I got the urge again to locate Roscoe. Six years had passed since the last time I looked online for him. With the vast amount of information now on the Internet, I was able to find several Roscoe Robinsons living in the U.S.
I knew at this point that he lives in Birmingham. The White Pages on line actually, had a phone number for an 88-year-old Roscoe Robinson living right here. I called the number, and voice mail picked up. I didn't leave a message. An hour later, my phone rang, and it was the number I had called. After I said hello, an older voice on the phone said, "I missed a call from this number." "Is this Roscoe Robinson the musician?" I asked. "Yes, it is," he said, happily. I told him this was going to be a strange question, but I wondered if he had lived at 1269 Cabrini Street in Chicago in 1963. Hesitantly, he said yes. I then asked if he owned a red 1963 Cadillac. I was excited to hear him say "yes" again. 1 told him it was sitting in my garage, I thought he was going to jump through the phone. He was so excited and asked many questions about the car.
We talked for a while and decided that we had to meet at some point. After a couple months and several phone calls with Roscoe, 1 was able to take the car to Birmingham, and meet him. The first night I met Roscoe, he took me to dinner. He told me many stories about the car. It was his first car, and Leonard Chess of Chess Records bought it for him. Not only was this Roscoe's car, but many great musicians had ridden in it-including Sam Cooke, Etta James, and Muddy Waters.
The next day we met Angela of Angela Karen Photography (who was there to photograph it), and Roscoe got to see his first car from 54 years ago. He was so happy. There might have been a tear or two shed between the two of us, but we'll never admit it. Angela photographed Roscoe and the car and I even got in a couple of pictures too. I got to ride in my 1963 Cadillac with the original owner driving while we listened to one of his hit songs, "That's Enough".
HEY! HAVE YOU HEARD THIS ONE?
"Trying To Catch A Cab In The Rain"
(composer: Dan Penn)
Irma Thomas
WHEN WAS THE LAST TIME YOU HEARD THIS HIT?
"It Keeps Rainin' "
(#23 Pop #18 R&B – 1961)
Fats Domino
See ya,
Charlie