In the fall of 1959, five students from Woodlawn High School in Birmingham, Alabama would form a band they called the Ramrods. The name "Ramrods" was adopted from the name of a then popular tune by Duane Eddy. That song was the first the band would play and subsequently became their kick-off number for every show.
The five original members included Joe Lackey, Jon Adair, Butch Fadely, Jim McCulla, and Larry Wooten. Four of them had never been in a band while the fifth, Jon Adair, had already been in two – the Teen Beats, and the Ray Royster Combo. It was good for them they had an "old timer" around since they were all 13 to 15 years old – including Jon.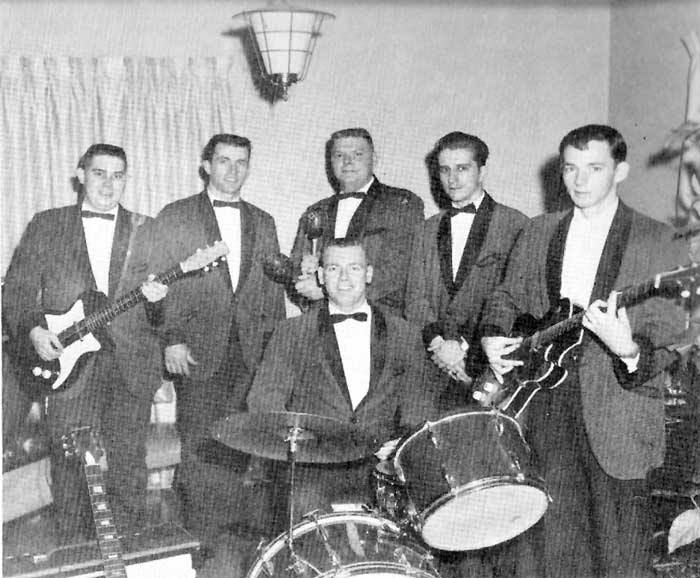 In 1960 the Ramrods played their first engagement with "Cousin Cliff" Holman, a Birmingham television personality, at the Minnie Holman Elementary School. As the early 1960s progressed, the Ramrods became one of the most popular bands in Birmingham. Their blue '57 Chevy with its white trailer became a familiar sight for rock 'n' roll fans at various colleges including Auburn, Alabama, Jacksonville State, and Birmingham Southern. For two consecutive years, they played to sold-out, standing room only crowds at the Peanut Festival in Dothan, Alabama.
One of the most popular venues of the time was the "Duke In Dixieland" dances. The Ramrods played the event regularly. While appearing at Dukes' dances, their familiar rendition of "Toy Bell" led local DJ Duke Rumore to refer to them as the "Toy Bell Boys."
Over the years, the Ramrods recorded many songs. In 1961, they were introduced to Wayne Bright, who had a recording studio in Muscle Shoals, Alabama. He took them to the studio and they did their first recording – "Fire Tower" backed with (b/w) "Sittin' Alone". These were written by Paul Newman and Jon Adair, respectively. The songs came out on the Bright label and the record listed the band as "Paul Newman and the Ramrod Combo" instead of the Ramrods. During earlier tours, needing a bass player and unable to afford a bass guitar, Jon Adair removed the two high strings on his regular guitar and then tuned it an octave lower. This "bass" was used on the Ramrods' first recordings. In 1962, they had their second recording session in Birmingham at Homer Milan's studio. The songs they recorded were "Slee-zee" b/w "Slouch-ee". Both of these were written by Joe Lackey and were released on the Queen label, a subsidiary of King Records, and produced by Les Hollifield.
Occasionally after shows, the guys would go to Baldwin Recording Studio in Woodlawn to record various tunes. It was here in 1963 where they recorded two surf instrumentals written by band member John Mulkey. These tunes, "Night Ride" b/w "Moonlight Surf," were taken to Rick Hall of Fame Studios in Muscle Shoals. He liked them enough to press them and put them out as the first record on his R and H label. "Night Ride" was a "Pick Hit" on Birmingham radio station WSGN. It soon made it into the top 40 where it stayed for 13 weeks peaking at #5.
During their five years together (1959-1964), the Ramrods appeared with various artists including Steve Alaimo, Arthur Alexander, Ace Cannon, Chris Crosby, the Four Seasons, Bobby Goldsboro, Bob Luman, Roy Orbison, Charlie Rich, Tommy Roe, Chris Montez, Del Shannon, Benny Spellman, and Ray Stevens.
Over the years, the group would have different members as some would leave for work, family, and military reasons. Other members included Paul Newman, Harry Looney, Bob Butler, Ronnie Eades, Durwood Bright, Dwight Anderson, Wayne Rascoe, Jim Matthews, Fred Guarino, Johnny Mulkey, Frank Bethea, and Bubba Lathem. Following an engagement in 1964 in Dothan, Alabama, at the Oasis, the group disbanded. Some band members would continue their musical careers. Ronnie Eades would go on to be a prominent member of the Muscle Shoals Sound while three members, Fred Guarino, Johnny Mulkey, and Bubba Latham would be heard on the hit recording "Georgia Pines" as members of the James Gang. All of the members helped make the Ramrods one of the memorable bands of the rock 'n' roll era in Birmingham, the state of Alabama and the entire southeast.
The Ramrod story didn't simply end with age. Still today, the Ramrod's music is played around the world in countries like Spain, Croatia, Japan, and in the USA. Their music can be purchased via various internet sites. Their recording of "Night Ride" can be found on a British compilation album entitled "Dog's Bollocks Of American Rock and Roll Instrumentals – Vol 4", and their latest venture, a CD entitled "A Blast From The Past," containing many unreleased recordings by the Ramrods can be purchased locally at Charlemagne Records.