It was 1961, rock and roll was here to stay, and the guitar playing Terrell brothers wanted to hop on the bandwagon. With elder brother Eddie on bass and Tommy playing rhythm guitar, all they needed was a drummer. They heard about a guy named Johnny Robinson who not only played pretty good drums, but lived nearby and happened to have a handy band practice room behind his family's garage. Johnny was only in 8th grade, but that was okay. The Terrells weren't long out of Jr. High themselves. So picking up on the 1960s trend of groups like the Cadillacs and Corvettes, the threesome took their name from Johnny's daddy's car and the Ramblers were ready to roll.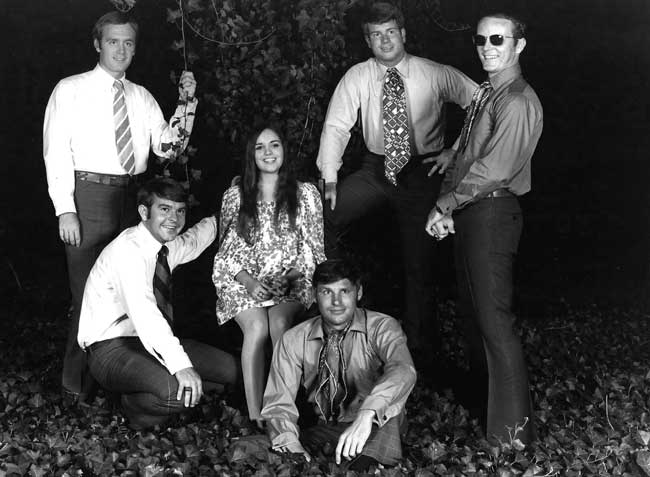 It only took a few gigs for the trio to realize they'd sound even better with a lead guitar. Soon the Terrells' classmate Van Veenschoten was the fourth Rambler. With the addition of Van, local success came quickly. The Ramblers were a popular choice for high school sorority and fraternity dances. Then luck struck Eddie Terrell in the form of a tennis scholarship from the University of Alabama. Eddie traded his bass for a racquet. Taking his spot on the bandstand would be yet another classmate, Chris Convey.
By 1962, the Ramblers were rocking steady and it was time to cut their first record. The perfect place to get it done was just up the street from their "garage-band" digs behind the Robinson house. At Ed Boutwell's studio in English Village they recorded "Stop That Twisting' and 'Hundred Miles Away.' DJ Duke Rumore liked 'Hundred Miles Away.' He added the Ramblers to the "Top 50" play list on WYDE, December 19, 1962, through January 8,1963, and booked the band for his "Duke's of Dixieland" sock hops at the Ensley National Guard Armory. Admission was fifty cents and the band was paid sixty dollars for three hours. Making that kind of money the Ramblers could afford to add a keyboard player!
Piano man Chip Sanders joined, and by 1965 this group — Tommy, Johnny, Van, Chris and Chip — had become THE band to hire for your event. Now they were booking beyond Birmingham, throughout the whole southeast, and all the while trying to get college degrees. Tommy, Chip and Chris were Pi Kappa Alpha brothers at the University of Alabama, Van was at Samford University, and Johnny at The University of Montevallo.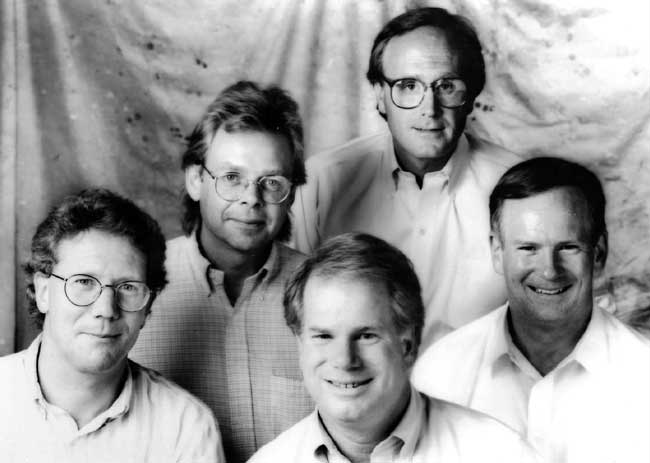 1967 was the year the Ramblers added "studio musicians" to their résume, when Ed Boutwell began using them to back singers in his studio. And as before, it was Boutwell Studio that the group chose to cut their second record "Come Back, Come Back' and 'Whole Lot of Woman," both written by Chip Sanders. The strength of regional airplay gave the Ramblers the stature to begin backing national artists such as Bobby Goldsboro and Billy Joe Royal, and to be selected by WSGN DJ Dave Roddy as the band to kick-off his long-running series of Airport Armory sock hops.
In 1969, with Janis Joplin storming the bastion of male-dominated rock, the Ramblers added 15-year-old Vicki Hallman to the band. Vicki brought the Ramblers into the Woodstock era and gave them fresh energy for new audiences. In later years, Vicki would become the female singer with Buck Owens' legendary Buckaroos, which led to ten years as a featured cast-member of "Hee Haw."
None of the Ramblers remember exactly why the band decided to break up. As the 1970s began, marriages and children changed their priorities. So when Van Veenschoten was killed in a motorcycle accident in 1972, the members of the group drifted apart. What they failed to remember was that their old rock and roll shoes remained in their closets. When the Terrells came to Johnny's mother's funeral in 1979, they began reminiscing and pretty soon there were plans to get the band back together.
Jim Burford was brought in to take Van's place on lead guitar, and Van's son, Martin, plays lead guitar with the band on occasion. John Livingston covered keyboards when Chip wasn't able to travel from his home in Mississippi. Chris Convey had also moved — to Florida — so Eddie Terrell stepped back into his original spot on bass. The Ramblers started rocking again in October 1979, and haven't stopped. The thousands of 1960s teenagers still dancing to the Ramblers' beat are living proof that the Glory Days do not have to pass you by.