In the late 50's, Dale Karrah gave Fairfield High School friend Howard Tennyson a bass guitar and said' "Here! Learn to play this!" Bringing in another friend, Bo Reynolds, this led to the start of a band called the Satellites – named so for the current news-headlined launch of the Russian spaceship called Sputnik. The band consisted of Dale, Howard, Bo, and a drummer Skeet. Skeet bought a new set of drums made by Premier Drums, and since the name Premier showed on the side of the drum visible to the audience, they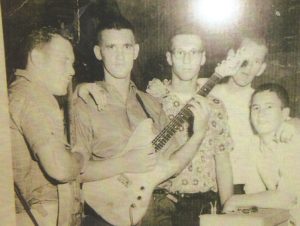 thought it would be neat to change the band's name to "The Premiers". Their first gig was on stage at Fairfield High School. They also played the Hickory Pit and the Madison Night Spot on the Bessemer Super Highway.
About this same time, Larry Graves became hooked on rock 'n roll after hearing Chuck Berry's "Johnny B. Goode". He worked summer jobs saving to buy a guitar and amp from Sears and the downtown Chicago Pawn Shop. Teaching himself to play, he put together a band called the Nomads. Bo Reynolds called one day inviting Larry to try out for his band. Guitar and amp in hand, Larry showed up, but Bo said that they needed a drummer and not a guitar player. So Larry auditioned on the drums getting a chance to play that Saturday night at the Ensley Moose Lodge and then Sunday at Holiday Beach. He was given the job if he would buy a new set of drums, which he did and for Larry the rest is history.
Also around the same time, Pat Thornton, who had started playing piano when he was 5 years old (continuing to study classical music all through his high school years at Fairfield) ventured into more popular music by answering an ad in the newspaper wanting a piano player for a rock 'n roll band. He auditioned, but lost out to a friend of his, Jim Kelly. Pat mentioned to Dale about the audition and Dale responded by inviting to sit in with his band. He stayed many great years.
The Premiers were truly a 'garage' band – practicing in Pat's garage on 41st Street in Fairfield. Bo would bring his records, and they would listen to a song over and over and practice learning it until they got just the sound they wanted.
Pat bought an old piano and cut it down so he could carry it to jobs where there was no piano. They used it only a few times as it still weighed over 300 pounds. Pat remembers the gig at the Bessemer Moose Lodge located UPSTAIRS in an old barn on the Bessemer Super Highway. It took all of them to get that piano up the stairs that night, but it ended up being a great night as they played for over 4 hours and earned $5.00 each. They had so much fun while getting paid for it.
Shortly thereafter, Pat bought a portable Wurlitzer Electric Piano (the same kind that Ray Charles used to record "What'd I Say"). The Premiers were one of the first bands in Birmingham to have an electric piano.
Duke Rumore was extremely instrumental in the success of the Premiers – taking them under his wing and giving them many opportunities in the entertainment industry. They played frequently for Duke at the Ensley Armory. The local classic "Are You Alright (Parts I and II)" was recorded live at Duke's before a crowd 'of about a million'! It was past 'standing room only' as every guy packed in there had his girl on his shoulders. Everyone living in Birmingham around 1961 still states, "I was there!". The Premiers' other release was a two-sided hit – "Oogsy-Moo" – a cover of a Jessie Hill song backed by "Locomotive" (a rocking instrumental written by Dale). The 45's are on Bigtop 3102 (from 1961) and Bigtop 3126 (1962) respectively.
With Duke's help and the popularity of their records, the Premiers played all over the South – doing parties at the University of Alabama, Auburn, Ole Miss, Mississippi State, Jacksonville State, Troy State, and many other universities. They shared the stage with Bobby Goldsboro, Tommy Roe, Willie Mitchell, Ray Peterson, and several other stars. They once performed at a rock concert in Atlanta before a crowd of 25,000. The highlight of their career was the night they played at the Cadillac Club in Memphis with Bo Diddley. They opened playing for 45 minutes. When Bo stepped on stage, there was complete silence from the 3000+ fans, but when he started to play, they erupted into cheers and applause. During the second set, Bo joined the Premiers on stage and played the drums. Bo knew how to work a crowd, and the Premiers were having the time of their lives.
The Premiers remained together until each member began their individual adult lives in the late 60's. They still play together on occasion. For the members of BRC who are honored to induct them into our BRC Music Hall of Fame, the Premiers will always be singing out to the fans of Birmingham – "Are You Alright?!!!"