In 1962, from the Ensley Highlands section of Birmingham, Alabama, Robert Alexander (rhythm guitar), Ned Bibb (song writer, vocalist and lead guitar), and Bobby Marlin (drums) started playing together as a band while they were still in high school. The group started out as The Counts and grew in numbers to include Henry Lovoy doing vocals and maracas and Jimmy LaRussa on bass.
During the years of l964 through 1966, they backed Travis Wammack, a rock – rockabilly recording artist and guitarist, who had earlier recorded a hit entitled "Scratchy." The group took the name The Distortions from Wammack's recording of "Distortion Part 1." Their first 45 was recorded at Fame Recording Studios in Muscle Shoals, Alabama under the SEA label (Southeastern Attractions). A Ned Bibb original, "Can You Tell," was featured as the A side and a slow, loopy take on "Hound Dog" on the flip side. The band later added Roy (Zac) Zachry on keyboard and along with Travis Wammack recorded "Take This Ring/You Know I'm On My Way," at Roland Jane's Memphis Studio, also on the SEA label.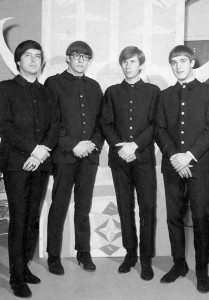 After Ned Bibb left the band in 1966, Eddie Rice joined the group on guitar and played with the Distortions for about a year. They recorded "Smokestack Lightning/Hot Cha" on the SEA label. Another Distortions favorite, "Thank You John," was recorded under the Malcolm Z. Dirge label and reached the charts on WSGN radio, broadcasting out of Birmingham. The Malcolm Z. Dirge name was coined by Zac Zachry, the keyboardist and vocalist for the group. On the flip side, they recorded a fine version of the Rascals' oft-covered "I Ain't Gonna Eat Out My Heart Anymore" with both songs featuring Robert Alexander, Zac Zachry, Bobby Marlin and Eddie Rice. After Eddie left the band, Bo Fowler played guitar, followed by Joe Rudd.
When their next 45- "Behind My Wall"- was picked up for national distribution by Smash, the Distortions had their biggest hit, selling 12,000 to 15,000 copies according to their producer, Ed Boutwell. It was written by Robert Gregg. They had great success with a good Bill Haney original, "I Found a Girl;" the flip side was a version of "I Don't Really Like You," originally done by Baton Rouge's Canebreak Singers on Montel and written by Mike Crespo. It was produced by Haney and Richie Becker, recorded at The LeFevre Studio in Atlanta and released on Casino, a subsidiary of the Dover Records Company of New Orleans.
In 1967, the Distortions added Dale Aston on guitar, Roy Alexander and Steve Saylord on saxophone. Henry Lovoy took over on drums in 1972. Their last release was a cleaned up version of the Stone's "Let's Spend the Night Together," retitled "Let's Spend Some Time Together."
Several other musicians, including Barry Beckett, and Eddie Hinton were players over the years. Zac Zachry, Roy Alexander, Clif Payne and Ed Finn continued to play college and club shows as the Distortions into the 1970s.