Percy Sledge's "When a Man Loves a Woman", Wilson Pickett's "Mustang Sally", Arthur Alexander's "You Better Move On", and "I Never Loved a Man (The Way I Love You)" by Aretha Franklin. These are classic songs that have transcended the natural change music went through in the late 60's. One common thing shared by these songs is the smooth keyboard sound that carries each of them. This sound was the result of one Spooner Oldham.
Dewey Lindon 'Spooner' Oldham was born in Center Star, Alabama on June 14, 1943. His early experimenting with music began in high school playing piano in bands. Later he would be a part of other bands – which included The Pallbearers, Mark V, The Tempests, and with Hollis Dixon and The Keynotes. This inclination toward music came from his father.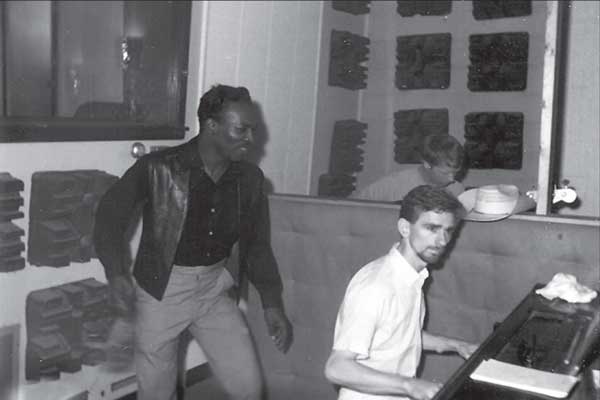 Dewey Oldham, Sr. and his brothers formed a string band in the 1940's developing a southern gospel sound – even auditioning for the Grand Old Opry. Being around music gave Spooner a background and feel for music that he continued to develop. Athough he enrolled in college after high school, he soon left that behind and became one of FAME Studio's session men.
While with Rick Hall at FAME, Spooner and the other session players began an experiment with music that would explode into what would become known as the Muscle Shoals Sound. It was the early 1960's and R&B – which had been one of the sounds of the black artists – was beginning to see a change into a smoother pop sound. This was coming out of Detroit and became known as the Motown Sound. Popular rock n' roll was also seeing a change at this time. So out of FAME came their first recording, Jimmy Hughes' "Steal Away". Spooner and the guys saw this record reach # 17 on the national charts. Thus, the Muscle Shoals Sound – a raw gritty soulful sound hit the airwaves. Spooner could also be heard on the soulful sounds of ''Tell Mama", "Funky Broadway", "Land Of 1000 Dances", and "Take Time To Know Her". He teamed up with Dan Penn to write the hit songs "It Tears Me Up" by Percy Sledge and "I'm Your Puppet" by James and Bobby Purify. While at FAME, he would become an integral part of the group that became known as the Muscle Shoals Rhythm Section.
With this success, Spooner became one of the keyboardists that would be in demand by many artists. He would continue to record for FAME, but would also go to New York to finish what had been started in Muscle Shoals with Aretha Franklin. His organ and piano sound can be heard on Aretha's first four LP's which gave us "Respect", "Chain Of Fools", and "Think".
Moving to Memphis in the late 1960's, he continued to be in demand and recorded with King Curtis, The Sweet Inspirations, The Box Tops, and B. J. Thomas. It was with the Box Tops that Spooner and fellow song writer Dan Penn would find much national success. Together they would write national hits such as "Cry Like A Baby" and "I Met Her In Church" and produce hits such as "The Letter", and "Choo, Choo, Train" all recorded by The Box Tops and write the hit "Sweet Inspiration" recorded by The Sweet Inspirations. Spooner took his talents to Los Angeles later in 1968 and even there was in very high demand for his musical talents. For Janis Joplin's 1971 'Pearl' album, a Spooner Oldham and Dan Penn song, "A Woman Left Lonely" was used. Spooner had some of his other songs recorded by many artists including "Lonely Women Make Good Lovers" which was
recorded in 1972 by Bob Luman and then became a big hit in 1984 when Steve Wariner recorded it. Spooner would work with Linda Ronstadt in 1973 on her 'Don't Cry Now' album, Gene Clark on his 1974 album 'No Other" and then in the late 1970's joined Neil Young who he toured and recorded with for over 25 years. Also, during this time, he found time to work with Bob Dylan on his 1980 'Saved' album. He was with Dylan on his 'Saved' and 'Shot Of Love' tours as well. He can also be heard on Arlo Guthrie's "City Of New Orleans" and on "Bad, Bad Leroy Brown"' by Jim Croce.'
Over time, Spooner's talents would bring him to work with artists such as J. J Cale, Bob Seger, Jackson Browne, John Prine, Joe Cocker, Roger McGuinn, the Everly Brothers, and Crosby, Stills, Nash, and Young. Even into the 21st century, Spooner provided his talents on a tour with the group Drive-By Truckers. He continues to be a part of the Neil Young group. In 1998, Spooner and Dan Penn teamed up for a British tour which resulted in the live album 'Moments From This Theatre'.
Other hall of fames that have inducted Spooner include the Musicians Hall of Fame, the Alabama Music Hall of Fame, and the Rock And Roll Hall of Fame. Spooner married his wife, Karen Hampton Oldham, in 1969. They have one daughter, Roxanne Oldham Bowen. The family moved to Alabama in the 1990's and reside here still.