Born in Hackleburg Alabama in 1929, Sonny James would be inducted into the Country Music Hall of Fame in 2006.
Born with a natural talent for playing stringed instruments, it would be at the age of four – when he was placed at the centerpiece of his family's country show, where he first began to realize his potential to entertain others.
Because he was just a kid he was called "Sonny Boy" but by 1952 when he signed with Capitol Records this six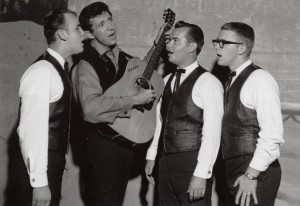 foot three inch talent was rebilled as The Southern Gentleman, a tag that portrayed his polite ways.
In 1956 as rock n roll was just beginning Sonny's multi-million selling single Young Love exploded on the scene and became a #1 country and pop hit – the first such cross-over of it's kind by a country artist.
Others would soon follow as major record labels recognized the potential of duplicating the success of Young Love signing artists such as Elvis, The Everly Brothers and Roy Orbison.
By 1959, a chance meeting at Capital Studios in Hollywood with Nat King Cole a favorite of Sonny and his father, would set in motion a new focus on Sonny's musical approach into a smoother pop-sounding style of country.
Too often overlooked, and perhaps due to the extraordinary success he found with Young Love, his greatest accomplishments were yet to come as he would increasingly expand the popularity of country music, soon becoming an in demand phenomena rising to chart heights never accomplished before or since.
Beginning in 1964 with his musical style refined and his "sound" produced to be identifiable, Sonny began what would become his legendary streak of 16 consecutive #1 releases – an uncontested record which no other recording artist has ever surpassed in any genre.
A decade later, Sonny James had amassed not only 16 #1's in a row, but a surreal 26 #1's in total and 72 chart hits.
During the midst of the 1960's Civil Rights era, and in the middle of his highly successful run, 5 of his most popular #1 recordings had previously been moderately successful releases for soulful R&B artists such as Ivory Joe Hunter, Brook Benton & Clyde Otis.
Sonny's broad appeal not only as a performer, but an entertainer, brought him into larger and larger markets and venues as he created new paths for others to follow which had not previously been welcoming to country artists in general, including his numerous appearances on The Ed Sullivan Show.
Always an integral part of his sound and style, his mastery of the guitar as a musician added a depth to his recordings and stage appeal which translated perfectly to television. His full vocal tones backed by his "Southern Gentlemen" created a sound that was awarded time after time with great success.
The first country recording artist with a star on the Hollywood Walk of Fame, his hits such as The Minute You're Gone, You're The Only World I Know, It's Just A Matter Of Time, Empty Arms and so many more – make it easy to realize that at the same time when the world was listening to The Beatles and The Rolling Stones on rock radio, they were listening and loving Sonny James on country radio.
Within pop-culture, the movie Apollo 13 may have depicted the legendary music of Hank Williams on a moon flight, but it was actually a musical program requested by NASA to be recorded personally by Sonny James which became the first country artist to travel into space on-board Apollo 14 which launched on January 31st, 1971.
Immediately following his string of #1's, Sonny then went on to produce the first 3 albums for Marie Osmond, which saw the first single, Paper Roses, surpass sales of 5 million worldwide and Marie nominated for a Grammy Award.
Throughout his life Sonny has stood always at the ready to share a funny story. Accompanied by his boyish smile, this man of deep faith never failed to cultivate his unique gift of making every friend feel as if they were his greatest friend every step of the way.
Birmingham Record Collectors • Hall of Fame • Class of 2015
"Devoted to the collecting of music, its preservation, and lasting friendship."