Sandy Posey was born in Jasper, Alabama, the youngest of five children. All of her siblings were singers and musicians.
In this tiny southern town where she played as a child, she dreamed of faraway places she might someday go and sing. Sandy's first public singing experience was at the tender age of five. She sang with her sister at her grandpa Posey's funeral.
As fate would have it, Sandy moved to Memphis, Tennessee where some of the most famous singers and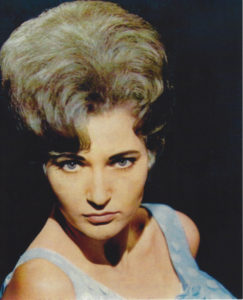 musicians of all times were just beginning to make their mark on the world, beginning with the king of rock and roll, Elvis Presley.
During her teen years, Sandy's voice influenced the music industry significantly. She was asked to sing background on recording sessions all over Memphis, including Sam Phillips' Sun Records.
Sandy's unique voice was also recognized by RCA. Her career as a background vocalist soared when she backed Elvis Presley on such hits as "Kentucky Rain", "In the Ghetto" and "The Wonder of You", just to name a few.
In addition to the Elvis hits, Sandy recorded as a background vocalist for Percy Sledge on his timeless hit "When a Man Loves a Woman". When Sandy's career led her to move to Nashville, she backed many legendary country superstars ranging from Waylon Jennings to George Jones.
Although Sandy had a thriving career in the recording studio backing all these great artists, her big dream was to become a recording artist herself.
As Sandy searched for just the right song, Gary Walker, a Nashville publisher, heard Sandy's magnetic voice. During this time, Gary had discovered an unknown writer by the name of Martha Sharp. She had just penned what was to become Sandy's long awaited, first number one hit. The song was entitled "Born a Woman".
Gary Walker heard in Sandy Posey's voice the same sincere feeling and intensity that Martha Sharp expressed through her words and music. The hearts of two young women desperately longing for love to find them, had instead through each other, found the means in which to express everything they were feeling.
The song, "Born a Woman", was recorded in Memphis and produced by Chips Moman. Chips Moman went on to become one of the most successful producers in the music business.
In only a short time, the song rose up the charts to become Sandy's first number one Gold Record. Sandy, Martha and Chips teamed up again with another, "Single Girl", which brought Sandy the international success that is still very much alive today. Sandy went on to record a long list of hits for Columbia and Warner Brothers Records.
Sandy Posey was nominated for two Grammys by the National Academy of Recording Arts and Sciences, in two different categories, along with Paul McCartney and Barbara Streisand.
Sandy's songs continue to sell in countries around the world, giving her the longevity that seems to elude so many artists. She is one of the most unforgettable singers of all time and is still performing worldwide. Sandy Posey is a symbol reminding women everywhere of the joys and sorrows of being "Born a Woman" and of their years of being a "Single Girl".
Recent Facts Sheet: Sandy Posey's hit single "Born a Woman" is featured in the motion picture "Man Without a Face", starring Mel Gibson. Sandy's song "Born a Woman" is also featured daily on the international Rush Limbaugh Radio Show. Mr. Limbaugh uses Sandy's hit as an update report theme song. CBS recently featured Sandy's recording of "Let It Be Me" in their made for television movie entitled, "Bonds of Love". Sandy Posey is currently touring with the Elvis Wade Show and The Jordanaires. Besides the U.S.A., they have performed for hundreds of thousands across Canada and Mexico. In Addition, they are planning a tour for Europe and Asia. Sandy recently performed in Seoul, Korea along with Skeeter Davis. Through the years, Sandy's career has taken her across four continents and she says, "Expect to travel with others if it's the Lord's will. I want to travel everywhere my songs are popular and say 'thank you'".
Birmingham Record Collectors • Hall of Fame • Class of 2015
"Devoted to the collecting of music, its preservation, and lasting friendship."