Sam Frazier,Jr. was born in the little mining town of Edgewater, Alabama. His parents, Teretta and Sam Frazier, Sr., raised Sam along with four sisters and a brother. Seeing his father work so hard in the mines, Sam was determined not to become a coal miner. He used to help with gardening for the disabled. To help support the family, his mother would hold huge barbecues in their backyard on Friday nights. Although not entirely legal, she also operated a "shot house"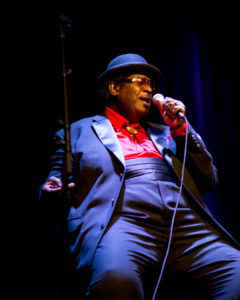 drawing large crowds. Among the attendees, entertainers such as Jimmy Reed and Sonny Boy Williamson showed up to eat, drink, and perform. It was Williamson that gave Sam his first harmonica along with a few lessons on playing the blues. Needless to say, Sam Frazier was hooked on a music career.
As he got older, Sam formed his own one-man band blowing his harmonica and singing while playing the drums with his feet. He recruited one of his sisters to play the bass. Their break came when Birmingham DJ "The Thin Man", Maurice King, arranged a recording session in New York where they recorded "You Got Me Uptight". After working in clubs in New York for a while, they came back to Birmingham where Sam performed with the gospel group, The Golden Hummingbirds while earning a living working at a car dealership. He was introduced to one of their customers, TV show host, Country Boy Eddie. He would become a regular on The Country Boy Eddie Show for 14 years. Eddie encouraged Sam to spread his wings a bit and perform country music like Charley Pride, who had succeeded as the first Black singer to make it big in country music.
Sam would go on to perform in numerous clubs throughout the United States. He would record numerous songs including "Mr. Wrong", "Cabbage Man", "Crying Melody" and many more. In 2006, he moved back to Birmingham to take care of family matters and continues to work steadily on blues projects with Don Mosley and Les Alexander at the Sound of Birmingham.
The Birmingham Record Collectors  l  Hall of Fame  l  Class of 2016
"Devoted to the Collecting of Music, It's Preservation and Lasting Friendships"