When Roger Clark was 14 years old, he got his first paid drumming gig at a night club on Main Street in Chattanooga, Tennessee. He was so young, that when the band went on break, he had to hide behind the bar, because he was under aged.
His dynamic style of playing drums had musicians all over town coming in to hear "the kid." One of those musicians was renowned songwriter/musician, Ken Bell. It didn't take Ken long to hire Roger away into his own band. At age 16, Roger was playing at the biggest club in Chattanooga. His association with Ken Bell also led to trips to Memphis, Tennessee where he got his first taste of session work. And he loved it.
In 1969, with nothing more than a dream and what he could pack into his car, Roger headed out to the west coast. He had friends living in San Francisco that assured him, he could find lots of work there. He didn't.
Roger will be the first to tell you, he starved for six months. Then finally, he landed a gig at a club in Walnut Creek near San Franciso called The Hook and Ladder. He wanted to work, and boy was he! Six hours a night, six nights a week for a grand total of…$48 a week.
Scanning a newspaper one day, he saw an audition call for a band he had never heard of. But the salary and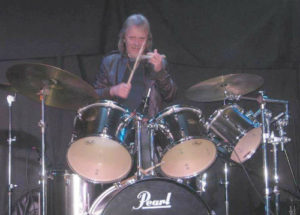 the thought of going on tour intrigued him. So Roger went to the audition, jammed with the band for an hour and when it was over, he was the new drummer for…The Steve Miller Band. Overnight he went from making $48 a week to $500 a day when the band was idle and $1500 a day when they had a show. He loves to tell the story of getting his first paycheck from Steve Miller, taking it to the bank and asking for it all in one dollar bills. He took it all outside and tossed it in the air!
Roger toured with Steve Miller all over Europe. They played in Scandinavia, Germany, Sweden and England. He found himself at The Palladium, playing a command performance for The Queen of England. A far cry from a club on Main Street in Chattanooga, Tennessee.
Roger then moved to Los Angles and played on at least 25 cuts for Steve Miller at Capital Recording Studio. It was around that time that he became acquainted with and eventually joined a band called The HooDoo Rhythm Devils. To this day, Roger says the HooDoos was the best band he's ever been a part of, hands down! They toured with Journey, The Tower of Power and The Pointer Sisters.
His old buddy from Chattanooga, Ken Bell had migrated to Muscle Shoals, Alabama and called Roger one day, asking if he might be interested in becoming a session drummer for Rick Hall at FAME. Roger went to FAME, auditioned and found a new home. He notched so many gold records during that time, he lost count. Including Mac Davis, Bobbie Gentry, Rufus Thomas, Billy Ocean, Bill Haley and The Comets, Clarence Carter, Paul Anka, Tom Jones, T.G. Shepperd, The Osmonds and Marie Osmond.
In the 70s, there were nine very active studios in the Muscle Shoals area and Roger ended up working for all of them. He cut the first number one country record to come out of Muscle Shoals on Narvel Felts at Music Mill. The song was "Reconsider Me." He cut a gold record on the group HOT at Wishbone and earned writer's credits on a cut on their album, called "Guilty."
Also while at Wishbone, Roger and Clayton Ivey were invited to Motown in Detroit to play on several sessions. They were the first white musicians to infiltrate the soulful black music studio. Of the over 30 gold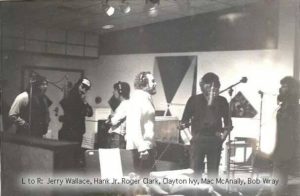 and platinum recordings that Roger has played on, The Temptations "Firefly" has a prominent position on the wall above the desk in his office.
During a session at Wishbone with Hank Williams, Jr., they were working on a song called "Family Tradition." The tune had an almost gospel feel to it. Roger suggested to Jimmy Bowen, the producer that they take the song "stone cold country." It worked like a charm. And at the end of "Family Tradition", when Bowen was trying to decide which direction to take the background singers, Roger had another brilliant idea. Let the studio musicians sing the closing vocals, giving the song a "bar sing-a-long" feel. That's exactly what they did. Roger and the other session players sang the ending background vocals, making it the only recording he played drums on and sang.
Nashville heavy weight producer Jimmy Bowen was so impressed with Roger's creative lead in the studio, that he started bringing him to Nashville for sessions. During that period, just about every song that came out on Electra-Asylum had Roger Clark on drums. Conway Twitty, Barbara Mandrell, Amy Grant, Mel Tillis and Nancy Sinatra, and that's just the tip of the Music City iceberg.
Roger maintained his home in Muscle Shoals, but found himself practically living in Nashville during those years. Then came several trips to Las Vegas, where he played shows with Paul Anka, Tom Jones and Wayne Newton. Roger has played twice on the Tonight Show with Johnny Carson, backing Tom Jones and Jim Stafford.
These days, Roger and his wife Sherry live in the Skypark area of Florence, Alabama. Their home on Lake Wilson allows Roger to pursue his other great passion, boating. You can also find him behind the grill every month of the year. He's quite the chef, specializing in smoked ribs!
Roger and longtime friend, Travis Wammack still play together. Travis Wammack and The Snakeman Band are heard regionally from local venues in the Shoals to Rockabilly and Blues Festivals all around the southeast.
Sunday mornings often finds Roger on drums at Faith Church in Florence, where longtime friend and colleague Lenny LeBlanc is the minister of music. Roger and Travis also play frequently at the Cowboy Church of Colbert County. A fourteen-year-old kid with big dreams in Chattanooga, Tennessee hasn't done too bad for himself.
The Birmingham Record Collectors  l  Hall of Fame  l  Class of 2016
"Devoted to the Collecting of Music, It's Preservation and Lasting Friendships"