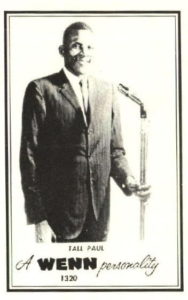 1936 – 2001
"In other words, with all the influence the disc jockeys have in the Black community, speaking to thousands of Black teenagers, youngsters and parents during the course of a day, hundreds and thousands of hours of days nationwide, they ought to be able to say something useful, and not just 'snap your fingers.'" (Paul "Tall Paul" White, Birmingham Times interview with Peter Moss, April 19, 1979)
Paul White was born to Minnie and Elmore White in Hillman Hospital in Birmingham on August 16, 1936.   Minnie and Elmore lived in the Titusville neighborhood of Birmingham and Paul was the fourth of Minnie's five children. Where Paul "grew up" was another story. Minnie was a traveling evangelist and from the age of four to the age of 13, Paul was a child preacher traveling with his mother, preaching in the AOH churches of Louisiana, Virginia, West Virginia and Arkansas, returning to Birmingham and the Mason City AOH church in 1947. He lived with his older sister Dorothy McGinest and her family in Mason City and attended Spaulding Elementary School. Some of the parishioners from Mason City AOH remember Paul as trying to lecture other youngsters in "the way that they should go."
"My momma told me an idle mind is the devil's workshop. So the youth don't have jobs. We need to start with the youth…they say, before I turn to crime, I'll go to the army. Get them off the street corners and integrate them into society…until we do that, we're going to have a problem." (ibid)
Paul takes up boxing as a sport and reaches his 6'5" height in time to have his sister enlist him early in the army. In 1954, he travels to Milwaukee, enlists and serves three years in Germany. Returning to the states in 1957, he decides to finish his 9th grade studies at Rosedale High School where he becomes active in the student body at age 20 and indicates his interest in radio broadcasting. Rosedale High School had a practice of readmitting returning servicemen to complete their studies.
By 1958, Paul left Birmingham again, this time seeking out a degree in broadcasting in Chicago, as remembered by his nephew and namesake Paul McGinest, now residing in San Diego. When Paul returns to Alabama, it's to WEUP in Huntsville, working as news director for Leroy Garrett, the first African American to own a radio station in Alabama. While their, he elevates his prowess as a sportscaster, not only broadcasting Alabama A&M football games locally, but setting up studios at historically Black colleges around the south to accomplish away-game broadcasts. Huntsville historian and friend of Paul's Bobby Hayden remembers there being some interest in recruiting Paul by the NFL.
At WEUP, Paul crosses paths with other announcers who would pursue their career with Garrett, namely, Andrew "Sugar Daddy" Dawkins (formerly with WBCO, Bessemer), Sonrose Rutledge, Shelley "the Black Pope" Pope and Jimmy Lawson.
His reputation drew the attention of Joe Lackey and Erskine Faush, manager and gospel announcer at WENN radio, on 5th Avenue North, and of the friends of Miles College, who wanted Paul to broadcast Miles football. They were able to recruit Paul back to Birmingham. His first job at WENN was broadcasting news and sports (his "forte" – as he put it) on Shelley "the Playboy" Stewart's morning drive show. That was 1961. By the end of 1962, Stewart had left WENN for WJLD and White was given the morning drive slot and took on the moniker, "Tall Paul (y'all)." And from there on, nothing in his life or Birmingham's would be the same.
Much has been written about the history of Birmingham's civil rights struggles, from Rev. Fred Shuttlesworth and the Alabama Christian Movement for Human Rights, begun in 1956 to the founding of the Southern Christian Leadership Conference in 1957 and their best known leader, Dr. Martin Luther King Jr. Suffice it to say, Paul White's move to WENN radio on Fifth Avenue north was not simply a son of Birmingham returning home. Paul had become in his short 26 years, a citizen of the world. His passion for the youth and his objection to segregationist and white supremacist leadership in Birmingham would have to become evident.
Paul began broadcasting Miles College games in 1962, spending a good deal of time on campus and getting friendly with Miles College President Lucius Pitts and student leaders who had organized a boycott of downtown Birmingham businesses to underscore discriminatory hiring and access practices. One of those student leaders, (now Reverend) Frank Dukes (who was actually 3 years older than Paul), explained that Paul had "rendered an invaluable service to Miles College and the City of Birmingham by getting the word out." On May10, 1963, downtown businessmen met at the A.G. Gaston Motel on 5th Avenue North to work out an end to the downtown boycott. Two days later a bomb went off at the Motel. Its target, Dr. King, had already left for Atlanta. The blast blew out the window at WENN, a half block away, and Paul left his apartment across from the motel and leaped into the station and began broadcasting. The police arrested him, charged him with attempted burglary and when manager Joe Lackey bailed him out, they reduced his charge to malicious mischief. The police did not like Paul.
But Paul was loved by the community.   "…you can really gauge what's going on in the Black community by watching the people who I call the have-nots." (ibid) Ringing his bell week day mornings, he'd run the high school check-in and remind students of downtown demonstrations his own way, "there's a picnic today, don't worry about your lunch," (ibid). On one occasion he hid students from Ulman High School under his desk who were being chased by the police.   He spun at after-school sock hops, and kept an eye out on the downtown community. WENN radio was threatened numerous times. As Paul recalled, " I said to myself, if the station blows up, then I'll blow up with it but I wasn't going to be intimidated by threats." (ibid)
As the demonstrations grew, and with it, resistance by the old regime, a major event took place that rocked the world. On September 15, 1963, the KKK bombed the 16th Street Baptist Church, killed four little girls attending Sunday school and wounded a fifth. Paul was the only radio announcer interviewed by the FBI (Oct.25, 1963). He recalled seeing cars in the area driven by white men and described them in detail, including their license plate numbers. At this time he was living across the street from the church. And although he was out of town during the day of the bombing, his descriptions pointed to Thomas Blanton, who received a guilty verdict some 40 years later for the crime. But Paul went further. In his FBI testimony, Paul felt arrests made by the Alabama State Police "were made to throw the FBI off the track, that they were "a sham to sidetrack the FBI."
Paul resigned from WENN radio that November for a short stint at WAOK Atlanta as Sports Director and returned to Birmingham the following year. John McClendon of Jackson, MS. owned both stations and it was not unusual for announcers to move around his properties. Paul continued as a music, news and sports announcer throughout the 1960's. He was also active nationally with the National Association of Radio and Television Announcers (NARTA) and served four terms as their National Vice President. In 1967, Dr. King addressed NARTA and thanked Paul for his service to the 1963 Birmingham children's demonstrations. With all his notoriety, Paul would still take the time to introduce local fledgling performers like child star Fletcher "Sputnick" Shepard to Jackie Wilson and James Brown.
Regardless of the Civil Rights and Voting Rights bills being passed in 1964 and '65, change was slow to come in the south. Paul saw a need. Black folks had clubs but not an outdoor venue where they, their families and children could relax. Paul founded Tall Paul Enterprises in 1970 and created Fun Land on land formerly held by the Sand Ridge Country Club, described as a Negro country club in the early 1960's. Fun Land had picnic areas for families, horses for the children and a night club in the evening. Many Birmingham baby boomers remember Fun Land and the musicians that played there, included Ona Watson, the Commodores and Earl Williams.
Paul's nephew Paul McGinest remembers that Paul's prowess as a sportscaster won him the friendship of Charles O. Finley, owner of the Oakland Athletics, who hosted Paul on several occasions between 1972 and '75.
In 1976, the WENN radio properties were sold to Birmingham businessman A.G. Gaston. They had a strong line-up but A.G. had the idea that the station should be all Black staffed. He replaced Joe Lackey with Larry Hayes, and Paul took off his headphones and walked as did most of the staff. In short order, that crew created WATV 900 which had been an easy listening station, and turned it soul. They broadcast out of the Jefferson Hotel downtown on 2nd Avenue North, and soon thereafter, found a home at their current location on Five Points West Ensley Avenue.
"By watching politicians, you can pull the cover off of them. Some people stand for nothing and fall for anything. My plan is to stay on the air and have my ear close to the ground and to make a contribution…it doesn't have to be a disco every time." (ibid)
In 1979, Paul was successfully wooed by WJLD 1400 and stayed there until 1985. He organized community base ball teams during his stay at WJLD, and returned to WJLD again in 1988 for a short stint. But his poor health was getting the better of him and he left in 1989 and went back into the ministry from whence he had come some 60 years past. His kidneys were failing and Paul went on dialysis in 1997 and stayed on it for four years. Last interviewed by Shelley Stewart on WATV in 1999, Paul reviewed their histories together, and made sure to thank all the people and staff at the VA hospital for their kindness. He closed with, "Life is hard by the yard and a cinch by the inch." Paul passed on August 19, 2001.
The Birmingham Record Collectors  *  Hall of Fame  *  Class of 2017
"Devoted to the Collecting of Music, It's Preservation and Lasting Friendships"