While in Memphis to do some recording, Jerry Grammer and a fellow musician, Hoyt Johnson, took some time off to go to a lounge in a local hotel. There was a trio playing that caught their attention – especially the pianist. When the band took a break, Jerry asked them if he could sit in with them and play his trumpet. They said that would be fine, and so, for about 45 minutes Jerry jammed with them. After a while, he sat in on the drums with them. He thanked the guys and Jerry and his friend left. It was years later that the pianist would become a nationally known figure – Isaac Hayes. This is one of the many stories in the life of one of Birmingham's most traveled musicians, Jerry Grammer.
Jerry Gwin Grammer was born in Sumiton, Alabama in 1941. He came from a family of musicians. His grandfather taught music, his dad played the guitar, and his mother played the organ and piano. Maybe this is what influenced him to enjoy music genres such as jazz, the blues, and big band rather than the country music his friends enjoyed.
His family's musical background and the music at church gave him a love of music, but the fire to play was lit one Sunday when a young preacher, Reverend Joe Milligan, came there. He had a nice look about him, could preach a good sermon, and played the trumpet like no one had ever heard. Jerry's life changed forever. He convinced his dad that he could and would be a good trumpet player, so his dad bought him a trumpet from a pawn shop, but not a very good one. Jerry was allowed to go to music stores and test some other ones. There Jerry found the one he wanted – a cornet – one that was easy for Jerry to handle and play. Carl Stewart, a musician and an early influence on Jerry, once took Jerry to a club (where Jerry was underage to get in) and gave him a trumpet "lesson"- having him listen to the band and learning the rhythm and to play along with them. His trumpet heroes would include Reverend Milligan, Clyde "Sugar Blues" McCoy, and Chet Baker.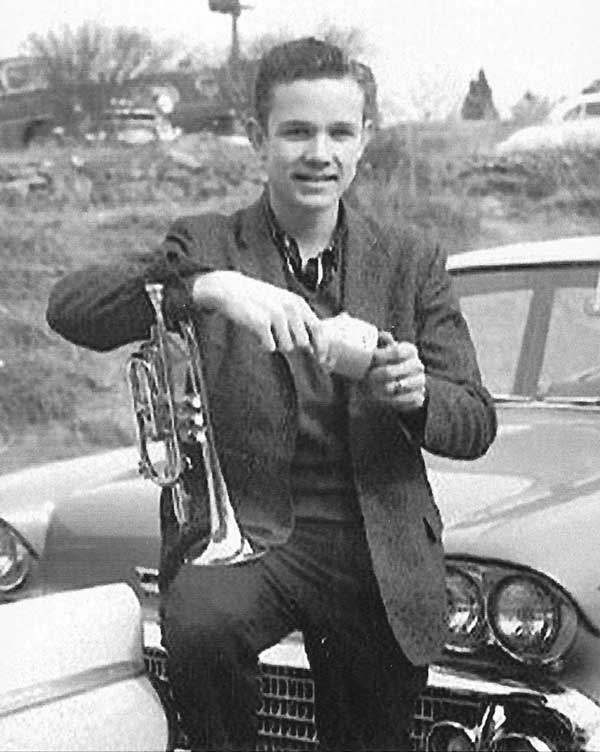 Jerry's first performance was at a celebration of the incorporation of the town of Sumiton. He later won several talent shows around the state. After entering high school, the desire to form a group led Jerry to do just that. His first band was called The Dixie Travelers and consisted of Ralph Raines, Don Early, Larry Stewart, Dempsey Easter, and Jerry. They played mostly Dixieland and ballads – playing wherever they could -including high school functions and talent contests. They later recorded a record, and, although it was never released, it was played on the radio by Ralph Emery. While still in high school, Jerry also had a group that was doing night time gigs. A reprimand from his principal about burning the candle at both ends went on deaf ears at the time, but later this wisdom was understood. During an election year, Jerry formed a band that would travel with George Wallace where they performed on the back of a flatbed truck.
Later Jerry joined the navy and played in the navy band – once performing for the Queen of England. After returning home from the Navy, with the love of music still burning, he attended Walker College and played trumpet for a group called The Collegiates. Jerry had also played a little on the drums, and, during this time he began to take it more seriously – playing on a set of drums belonging to Ralph Serrano that were always set up in the student center. A fellow student named Wayne Gross, later to be a member of Larry and the Loafers, would play guitar while Jerry played the drums. Jerry's drum heroes are Gene Krupa and Ginger Baker.
Now being a trumpeter and a drummer, Jerry went on to form and join many bands. A few included Bobby and the Dukes, The Night Hawks, Dan Penn and the Nomads, J C and the Cavemen, Jerry Grammer Trio, Jerry Grammer Three, Gabriel, Gene Crews and the Cruisers, and two bands with Jerry Woodard called The Raging Storms, and The W-2 Forms, and a duo with Jerry Woodard called Now & Then. Jerry and Hoyt Johnson also were in many bands together. Jerry has worked with a Who's Who of musicians over the years including Jimmy Elledge, the Clovers, the Four Mints, Jerry Lee Lewis, Johnny Tillotson, Joe South, Charlie Rich, Ray Sawyer (Dr. Hook), Brother Dave Gardner, Redd Foxx, Country Boy Eddie, and Gatemouth Brown.
Jerry's recordings include much session work done at studios such as Fame, Reed, Hambric, Heart, and Deep South. Releases he had were with J C and the Cavemen, Hoyt Johnson, and Jerry Woodard on labels RCA, Decca, Chant, and Allstate.
Jerry has performed locally at Pappy's Club, the Allstate Club, the Y Club, the Brown Derby, the Boom Boom Room, and Club Robert L. He was with Country Boy Eddie on his morning television show, and also on the Cousin Cliff Show. His travels have taken him to Louisiana, Georgia, Tennessee, Florida, Maine, Texas, Virginia, South Carolina, North Carolina, Mississippi, Las Vegas, Canada, and Washington DC.
Jerry is a member of the Alabama Music Hall of Fame as an achiever, a member of the European Rockabilly Hall of Fame, and is an Honorable Mention in the Rockabilly Hall of Fame here in the states.
An article in a small local newspaper in 1961 put it this way, "Some may sing better, some may play drums better, some may play trumpet better, but no one sings, plays drums and trumpet better than Jerry Grammer." The death of his first wife put an end to his traveling and his career in music as Jerry chose to be with his children. Jerry is now grounded deep in the Lord, happily married to his wife Rita, and enjoys his family and his poodle Tilly.