Jerry McCain was born on June 19, 1930 in Gadsden, Etowah County, Alabama. He has called Gadsden his home all of his life. He was the youngest of five children. His mother played guitar in the local Holiness Church. Jerry started playing the harmonica at about age five or six. He also plays drums and guitar. At various times, he also tried to play the trumpet and the Jew's harp.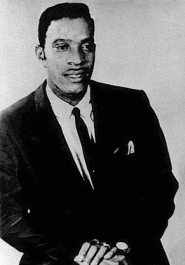 Jerry used to play on street corners – drawing large crowds. Policemen would take Jerry to get his harmonica if he didn't have it with him when they often asked him to play some of his tunes. In the 1950's, Jerry used to play on the radio, at local station WETO, with only a jug to accompany him. Later, Jerry was on the street in front of a café and a stranger came up with an old guitar; Jerry asked him if he could play. The stranger said yes, and Jerry then hummed a tune for him to play. When he played it, Jerry pulled out his harmonica and began to also play. People began to gather around them – enjoying the music. This was the beginning of Jerry's first combo – The Upstarts.
Always hopeful, Jerry had always sent audition sample records to record companies, but now his tapes had more than just a harmonica and a washboard on it. He first recruited a friend, Jean Dozier, to play drums for them, but Jean played a marching-type drum, so Jerry then showed his brother Walter how to play the drums a little – mainly just to keep time. After the foundry shut down where Jerry's two brothers worked, Jerry would let one of the brothers play with him on Friday nights and the other brother play with him on Saturday nights. After a period of time they had a disagreement, and Jerry then got Jimmy Sheffield to play drums; Jimmy was a real drummer. However, Jerry's brother Walter did help Jerry record his first record "East Of The Sun" on the Trumpet label for the Diamond Recording Company in Jackson, Mississippi. This all happened after another harmonica man Little Walter had made a successful record called: "Juke And I Can't Hold On Much Longer". Hopeful Jerry sent an audition record to Trumpet sounding almost like the hit by Little Walter. Jerry was then asked to come to Mississippi for an audition.
Jerry stayed with Trumpet a few years and then went to Nashboro Records recording twelve tunes on the Excello label with Chris Collins, Jerry Sheffield, and other studio musicians. After leaving Excello, Jerry met Gary Sizemore who was in the music business in Birmingham, Alabama. Gary took Jerry into Homer Milam's studio on First Avenue North in Birmingham – a rickety old studio with an only Ampex three track recorder. The result was amazing! The musicians' soul simply came out and they cut two sides which are classics in Blues history. "Steady" – which is considered by many people to be the best blues harmonica instrumental ever recorded – and "She's Tuff" – which is Jerry's most recorded song (having been cut by such notable artists as the Fabulous Thunderbirds). Jerry's brother played drums and L.M. Jackson played guitar on "Steady". They went on to record "Ting Tang Tigaloo", "Love Me Right", and some other tunes that were not released. Sizemore wasn't satisfied, so he negotiated with CBS and Columbia Records – securing a recording contract with Okeh Records, a subsidiary label of Columbia. Jerry suggested the song "Red Top", written by Lionel Hampton and Pete Canard, for their first recording in Nashville. Top musicians and background vocalists gathered for the session – Boots Randolph, Lloyd Green, and the Anita Kerr Singers. "Red Top" charted on Billboard and the Music Reporter. On the second session done in Nashville, two sides were cut. One was "Jet Stream", a super instrumental, but far ahead of its time. The other side was rehab near me, which was timely, but nothing happened with the song. This session was one of the largest groups of musicians that had been assembled in Nashville. The same top pickers as before, plus the string section from the Nashville Symphony joined Jerry in this recording. The New York Times reviewed "Jet Stream" – calling it the greatest instrumental ever cut. Jerry played mostly in the South until 1965. He then went on the road with the Drifters, the Temptations, William Bell, Freddy King, and many others. Jerry's God-given talent has taken him to many places during his 60-year career.
On a personal level, Jerry still lives in Gadsden with his sixteen-year-old grandson, Joe, who Jerry has raised almost all of his life. Jerry was married twice – each briefly – before he married his third wife, the love of his life, Jean Spanks. Jean and Jerry did everything together. They were a perfect example of a loving, devoted couple. They shared the raising of his grandchildren, fishing, gardening, and many other pastimes. Jean passed away in March of 1997 after a courageous struggle with cancer. Jerry had the following inscribed on her headstone: "I had three marriages, but Doris Jean was my only wife". Jerry has built a memorial flower garden and a fountain in the yard of their home in her memory. Jerry has had a very difficult time since the death of his beloved Jean.
The city of Gadsden has honored Jerry by including his own day at their annual "Riverfest" – a four-day music event. The addition of "The Jerry McCain Broad Street Blues Bash" rounds out the entertainment and allows many local citizens to experience Jerry "live and in living color" (to use one of his phrases).
Jerry McCain, who still lives in the green house he built with his father in 1950, who once had a day gig as a bounty hunter, who was shot by an ex-wife, has really not changed throughout his 72 years. For half a century, songwriter and harmonica virtuoso, Jerry "Boogie" McCain has been singing the Alabama blues – blending humor, romance, social commentary, and a view of his own personal life. Yet still, his energy and enthusiasm remain undampened – at the slightest hint of a request, Jerry will bless us, his loyal and loving Alabama fans, with a heart-touching display of his God-given craft – true heartfelt harmonica blues.