Fletcher Joseph Sheppard, Ill was born September 27, 1958 in the Smithfield neighborhood of North Birmingham, Alabama. Active even as a young child, he is said to have been climbing walls and doing backflips at the age of one. Calvin and Catherine Sheppard were amazed at their son's dancing talents as well as his off the wall gymnastics, and soon his father would dub him with the nickname of Lil' Sputnick.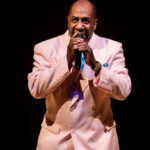 Sputnick's twin brothers, Alvin and Calvin, had formed their musical act called appropriately, the Sheppard Brothers.   Their younger brother wanted to sing and dance right along with them, and after hearing his voice one day, they decided it wasn't such a bad idea. They would carry a suitcase out on the stage for a performance and stun and delight the audience when Sputnick would jump out and begin to dance and flip across the stage. By age five, he had cut his first recording, the song "Wrong Number", on the Baby Record Label in Atlanta, Georgia.
Touring with his brothers in the Sheppard Brothers group, Sputnick would share the stage with talents such as Stevie Wonder, Jackie Wilson, James Brown, the Original Temptations, Ike and Tina Turner, Otis Redding, Gladys Knight, Johnny Taylor, the O'Jays and many more. In the 70s. Sputnick began a solo career as a drummer, singer, dancer, and psalmist. He has played drums behind several other artists that have come to Alabama.
Sheppard has recorded three CDs, "Sputnick Sheppard the Beginning", Sputnick at Last", and "Sputnick Sheppard Live". "Sputnick the Beginning" is currently sold at www.cdbaby.com and Amazon. He has two new CDs that have not yet been marketed.
Sputnick is married to his manager, Carol. They reside in Birmingham.
The Birmingham Record Collectors  l  Hall of Fame  l  Class of 2016
"Devoted to the Collecting of Music, It's Preservation and Lasting Friendships"