Elnora Spencer was born in Birmingham, Alabama and began singing at the age of four. Music was a family affair. Elnora was strongly influenced by her mother who was a noted gospel singer in the 1950s, a talented grandfather, and two aunts who performed on a local television morning program. At 12, she was performing with Roscoe Robinson.
Elnora made a name for herself by taking first place in a singing competition at Jefferson State College in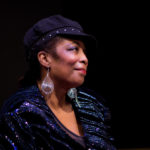 1981. Her vocal talent has led to numerous awards and accomplishments in the field of music. She was a background singer on the documentary Gees Bend Quilt Makers as well as singing with B.B. King, Bobby Blue Bland, Little Milton, Johnny Taylor, Percy Sledge, Millie Jackson, Shirley Brown, Tyrone Davis, Bobby Womack, The Drifters, Benny Latimore, Floyd Taylor, Lenny Williams, Denise LaSalle, and many more. Taylor Hicks had her singing back up on one of his CDs. She has sung with the Alabama Symphony and was honored to sing the National Anthem for the 2007 Bass Master Classic Opening Ceremony.
Among her awards, she was named Best Female Vocalist of 2002 by the Birmingham Weekly and was nominated for Birmingham Jazz Hall of Fame. She was inducted into the Alabama Blues Hall of Fame as a Master of Blues Artist.
Elnora calls her style "jazzy blues", but her talent does not end with vocal talents. Ms. Spencer was also featured in the Living Legends Live Series and has had her poetry published in the Southern College Magazine. To relax, she took up painting and excelled in this area as well. She is a successful folk artist having appeared on television and selling over 400 of her paintings thus far. Elnora Spencer will assure you she is still doing what she loves, singing, writing poetry, and painting. Whether performing at a concert around town or playing to a more intimate group at one of the local libraries, her smile and her talent light up the room and touch everyone in the audience.
The Birmingham Record Collectors  l  Hall of Fame  l  Class of 2016
"Devoted to the Collecting of Music, It's Preservation and Lasting Friendships"