Welcome home, Dave Roddy!
Dave Roddy loved music from the start in his hometown of Memphis, Tennessee. He was in a rock band in his teens and headed for a career as DJ shortly thereafter. Dave's radio career began in Knoxville, Charlotte and then to Birmingham where he worked at WYDE for almost a year, a station known for its drive-through request window. One day the General Manager came by with a group of executives to tour the station. Dave remembers well that the GM was enraged when he saw a roll of toilet paper atop the announcer's control board. It was there because Rockin' Roddy had a cold! Dave would have left for his hometown the next day had the GM not apologized.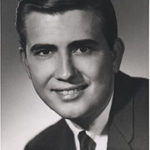 Meanwhile over at WSGN, popular DJ Tommy Charles was leaving for a job in Houston. Ben McKinnon, the General Manager offered Dave a job. He missed the drive-by window at WYDE, but the loved his new home where he would remain for over eleven years. The "All New WSGN" began its long run at number one in audience ratings with the creation of the Good Guy team of announcers.
As WSGN Music Director, Roddy would not only introduce numerous national hit records, but also promote popular weekly shows at the Oporto Armory and Boutwell Auditorium which gave him a direct line of communication with his listeners.
Dave's natural penchant for "branding" helped him come up with the name for such promotions as the bright orange WSG-N-tenna balls that appeared on car antennas all over the Magic City. "Branding" such as this would become his life's work.
Many other milestones were reached during Roddy's stint as a Good Guy. In addition to having narrated his own hit record, one of the most impressive was the moving of the studios from 7th Avenue to the Penthouse of the City Federal Building. The move was accompanied with a procession of vehicles, flags, horns, and a police escort. WSGN newsmen covered the event from their slickly painted vehicles in Chet Huntley/David Brinkley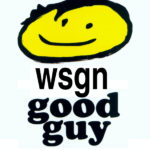 style "back-and-forth" banter.
In 1968, tragedy hit when Dave broke his back in an accident at "Tam's Tuesday" at the Oporto Armory. It took a long 18 months to recover and by then, the music just wasn't the same. He moved to what he refers to as a more "grown-up job" in advertising sales and marketing and a new spark was ignited with his first jingle, "Let Shaia's of Homewood Bring Out the Man in You".
He would eventually leave Birmingham for Columbia, South Carolina to operate the Ruddle Agency Marketing/Public Relations where he has won many "Best of Broadcast" ad awards.(Ruddle is his real name.)
Dave enjoys working, traveling, boating, hiking, spending time with his four daughters, three grandchildren, and beloved girlfriend. He does regret never having properly said farewell to his Birmingham fans and wants them to always remember to "Keep it (kiss-pop) scr-r-r-r-roungy rascal'…'cause Lovers Never Say Goodbye"!
The Birmingham Record Collectors  l  Hall of Fame  l  Class of 2016
"Devoted to the Collecting of Music, It's Preservation and Lasting Friendships"