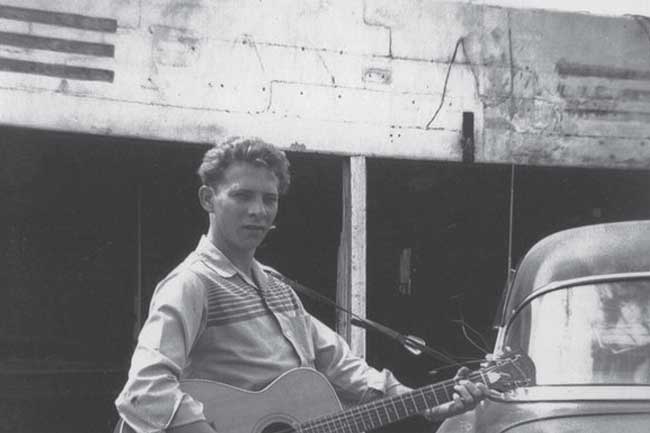 In the late 1950's and early 1960's, R&B music was beginning to see some offshoots. Artists such as Jackie Wilson and Sam Cooke were taking R&B to a slightly smoother sound. Then came the Motown Sound – R&B blended together with a pop sound. There were artists such as Smokey Robinson, Mary Wells, and Marvin Gaye who took this sound to the top of the charts. While all this was going on
in Detroit, New York, and Philadelphia, there was a growing R&B emergence that became known as 'Soul'. One of the early movers and shakers that brought soul music to the forefront of popularity was Dan Penn. Dan helped shape the development of southern soul music with legendary songwriting, musicianship, and production.
A native of Vernon, Alabama, Penn moved to the Florence/Muscle Shoals area while still a teenager and assumed the role of lead vocalist in a local group calling itself the Mark V Combo. When asked what kind of music they played, Penn replies, "R&B, man. There was no such thing as rock. That was somethin' you picked up and throwed," he laughs, "or threw." It was around this time that he penned his first chart record – Conway Twitty's "Is a Bluebird Blue". During the early '60s, Penn began working with Rick Hall at Fame Studios in Muscle Shoals – first as a songwriter and then as an artist under the names Lonnie Ray, Danny Lee, and finally Dan Penn.
Penn's early co-writing collaborations with Spooner Oldham while at Fame included "I'm Your Puppet," which became a hit in 1965 for James & Bobby Purify, and "Out of Left Field," and "It Tears Me Up" performed so memorably by Percy Sledge. He also co-wrote hits for Joe Simon, Jimmy Hughes and Wilson Pickett.
On "I'm Your Puppet", Dan says, "We'd done our usual – which was go get a barbecue plate or a burger. Then we came to the studio, and I had just bought a little 12-string guitar that sounded pretty good, so I just started playin' [voices the guitar line from the song], and Spooner just slid in with [he makes the familiar keyboard sound]. Next thing you know, we're into this song. I started writin' stuff down, we cut a little demo on it, and me and Rick came up to Nashville and put some strings on it. Actually, it was a record that came out by me, I believe on MGM, but it was called 'The Puppet' – it wasn't no "Your". My little record didn't do anything, so it went to the demo file. When producer Don Schroeder brought the Purify brothers in, they went to the demo file and they picked that one out. When they started singin' it, they sang "I'm your puppet" – they couldn't remember, I guess. And I didn't like it anyway; I thought it was too fast, kind of a rip-off of Sam & Dave. At least that's what I was thinkin' then. Later on, when it came out and became a hit, I loved it. It was easy to get on board later."
Dan became an exclusive writer for Fame Publishing Co. for about three years. "It was sort of an in-house thing, where artists were comin' and goin', askin' for songs, and there was sort of a built-in opportunity to try to be a commercial songwriter." According to Penn, the reason people hear touches of country in his brand of R&B is "because I'm an old hillbilly myself. Took me about 30 years to find out I was still a hillbilly. But compared to R&B, country is much easier. You ain't got to struggle. Anybody can sing, "Because you're mine, I walk the line." Go try to write 'Out of Left Field'; go find all those chords and what all that means. So a hillbilly I am, but in the '60s I really loved R&B music, and there was a lot of it to love. I loved Jimmy Reed, Bobby Bland, Ray Charles, Little Milton, James Brown… I always respected the black singers because they were always there — we were trying to get there. Knowing that the black singers wanted my songs inspired me."
A number of their classics were written for particular singers. ""Sweet Inspiration" was written for the group the Sweet Inspirations, "Cry Like a Baby" was written for Alex Chilton, and "Out of Left Field" was written for Percy Sledge," says Penn.
Dan produced both "The Letter" And "Cry Like a Baby" for The Box Tops. They were both BIG hits. "Everybody thinks I coaxed Alex Chilton into doing a lot of vocal tricks, but it's not true—he just had it. The only thing I ever told that young man to do was sing 'aeroplane' instead of 'airplane' on "The Letter" – I was just tryin' to make it flow better."
Concerning "Out of Left Field", Dan states, "People say it's a baseball metaphor, but I always think it's a farm metaphor – like an old tractor bringin' some hay in. The chords Spooner came up with and the places we went are kinda strange. I just love it 'cause it's a heck of a way to say "She walked in out of nowhere". "Some of these songs weren't written that way. "Do Right Woman" wasn't written for Aretha, nor was "Dark End of the Street" written for James Carr. Chips Moman and I just wrote those songs and we didn't have anybody in mind. We worked great together while we were together—we're so lucky to have those two songs."
In January 1967, Atlantic's Jerry Wexler brought Aretha Franklin to Fame to record "I Never Loved a Man the Way I Love You." Penn recalled the scene. "When she walked in, she was like a young queen. Most of the guys in the studio pretended not to be paying too much attention to her, but they were looking at her from the corner of their eye. She appeared so calm, but I knew she was scared to death. She just sat down at the piano, calmly took a deep breath, lifted her hand up and then just hit the unknown chord! The instant she did that all the guys stopped eating or talking or whatever and just headed for their guitars and drums to play. You just knew history was going to be made that day."
Relating "The Dark End of the Street", Dan says, "We tracked it at Hi, and a few weeks later bought James Carr to Chip's studio and did his vocal overdubs and I did some background vocals. We thought James was fantastic. He had made some good records before, and we knew we had made a good record here. Did we realize it was going to become hailed as a masterpiece? Not really, but I liked the song and the record a lot. What did I think of Aretha's version? It was okay, but nobody did it as good as James Carr – not even me.
In 1966, Penn relocated to Memphis and began producing at Chips Moman's American Recording Studio. While at American, Penn and Moman co-wrote "Do Right Woman, Do Right Man," which Franklin turned into a soul classic, along with "Dark End of the Street," stunningly recorded by James Carr, while Dan and Spooner came up with "Cry Like a Baby" for the Box Tops and later "A Woman Left Lonely," written at Dan's Beautiful Sounds Studio in Memphis, and chosen by Janis Joplin for her classic album Pearl.
In the 1970's, Dan and his wife Linda relocated to Nashville. He stays very active in the music business, having his own label, Dandy Records. Some of Dan's latest productions have been Greg Trooper and The Hacienda Brothers, and Julian Dawson's "Deep Rain" that was released in September of 2008. He also produced Bobby Purify's comeback album, "Better to Have It". In 2001 Dan released his CD, "Blue Nite Lounge". He recently released a new CD entitled "Junkyard Junky". Once asked how he was able to get James Carr to do such a great rendition of Dan's "Dark End of the Street", Chips Moman said, "Easy! Have Dan sing it for him. He had to sing it because Dan sung it so good." And because Dan does "sing it so good", Dan still does live shows.