Thomas Baker Knight, Jr. was born in Birmingham, Alabama, on July 4, 1933. Baker lived for brief periods in several cities throughout the South, spending the majority of his childhood in Birmingham where he attended high school. Upon graduation, he served 3 years in the Air Force and on his return spent a year at the University of Alabama. Unable to afford the expense of college, he attended an art school in Birmingham and became a technical illustrator and draftsman.
He had learned to play the guitar informally while in the Air Force stationed in Birkenfeld, Germany. He kept at it faithfully on his return to the States, and when Elvis appeared on the music scene in 1956, Baker and some musician friends were so moved by his music and the music of several other artists, including B.B. King and Bo Diddley, they formed a rock 'n roll band, "Baker Knight and the Knightmares". Within a year, the band had developed a large following in the Birmingham area and one day the proverbial "agent" came to town. He liked Baker and the band and signed them up.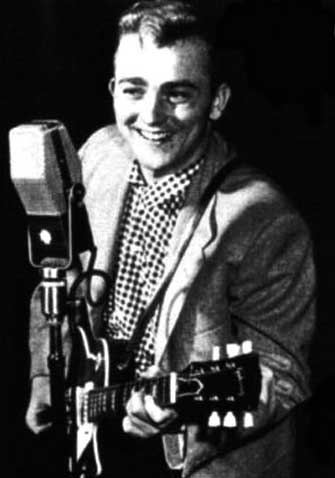 They recorded several songs for various record labels and one of the songs "Bring My Cadillac Back", written by Knight started out with a big bang, selling 40,000 records in 2 weeks. It was originally released on the Kit label out of Nashville. But… the song was removed from the radio play lists because the powers that be felt it was a free commercial for Cadillac. That is, General Motors.
Nothing seemed to quite "jell" after that, and a couple of the band members drifted away. Out of a job and not knowing where his next meal was coming from, Baker accepted a plane ticket to Los Angeles from the "agent who came to town". He went to L.A. with $80 in his pocket, a guitar, and a few clothes. The agent had sent him the plane ticket based on a part in a movie which the agent had procured for Baker, but it didn't work out.
Baker had been writing songs for several years prior to coming to Los Angeles but had found no real success. Sad and disillusioned, he wrote "Lonesome Town" as his personal comment on Hollywood – the feeling of being lost in a crowd coupled with the pain of a love that had gone wrong.
Baker recalled that he was down to his last 36 cents. Thirty-six pennies in a glass, when he was introduced to Ricky Nelson by a mutual friend. He played a few songs for Ricky (who at the time was a major star on the music scene, a teen-age idol to be exact). Nothing much was said at the end of the meeting with Ricky, but 2 days later Baker got a call from Ricky's manager saying that Ricky wanted to record 2 of the songs that Baker had played him and wanted to know if he would accept a $2,000 advance. That was most welcome news.
Ricky recorded "Lonesome Town" and "I Got A Feeling" shortly thereafter, and in the late fall of 1958 both songs were at the top of the Billboard Charts. "Lonesome Town" was at #3, and "I Got A Feeling" came in at #11. Ricky went on to record a total of 22 songs written by Baker.
Baker Knight has three One Million Performance songs to his credit and eight BMI Citation of Achievement Awards. The Million Performance songs are "Lonesome Town", "Never Be Anyone Else But You", both recorded by Ricky Nelson, and "The Wonder of You" recorded by Elvis Presley and also recorded by Ray Peterson. "The Wonder of You" is approaching the two million performance status as of April, 2001. In 1976 his "Don't The Girls All Get Prettier At Closing Time", recorded by Mickey Gilley, won the Academy of Country Music "Song Of The Year" Award.
Baker now resides in his hometown of Birmingham, Alabama. He has a daughter, Tuesday Lynn Knight, an actress and jewelry designer who lives in Studio City, CA. Tuesday will appear in the upcoming Billy Bob Thornton movie "Daddy and Them" to be released in the fall of 2001. She has also appeared in "Nightmare on Elm Street 4", "Mistress", with Robert DeNiro, "The Perfect Mother", with Tyne Daly, the TV series "2000 Malibu Road" with Drew Barrymore, "The X-Files", "The Profiler" and others. Baker also has a son, Thomas Baker Knight, III, who is a doctor of veterinary medicine and an award-winning taxidermist residing in Cantonment, Florida, and who also plays guitar and bass.
Baker Knight has been called a "songwriter's songwriter" meaning that he knows his craft. His songs have been recorded by over 40 recording artists starting in 1958 with Ricky Nelson's "Lonesome Town". Rick went on to record 21 more songs penned by Baker.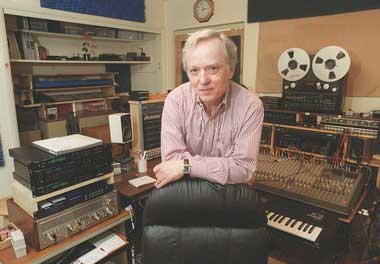 Baker has in his career written songs recorded by Frank Sinatra, Nancy Sinatra, Sammy Davis Jr., the Cathedrals, Emmy Lou Harris, Daniel O'Donnell, the Lettermen, Keely Smith, Bobby Hatfield, John Davidson, the Sandpipers, Dean Martin, Hank Williams Jr., Dave & Sugar, Bobby Vinton, Leif Garrett, Dave Dudley, Eddy Arnold, Jerry Wallace, Frankie Laine, Mickey Gilley, Gene Vincent, Sonny Knight, Eddie Cochran, Frankie Avalon, the Sugar Bears, Perry Como, Jerry Lee Lewis, Kim Carnes, Bing Crosby, Dean Martin, Hank Snow, Ernest Ashworth, Carl Belew, Connie Smith, Pat Boone, and many others.
The extent of his writing transcends 40 years. Most recently, Sir Paul McCartney recorded "Lonesome Town" and included it on his "Run Devil Run" CD, which was released in October of 1999. Sir Paul also sang "Lonesome Town" at a ceremony in London, England, as a tribute to his late wife, Linda. He also performed it on television in a show titled "Live From The Cavern". A quote from Sir Paul on the insert of "Run Devil Run" says, "I liked Ricky Nelson …"Stood Up", "Believe What You Say"…but I loved "Lonesome Town". It's like "Heartbreak Hotel", it's a place we all know".
Baker is himself an accomplished vocalist and guitarist with many records to his credit throughout a long career. Baker has recorded on a number of major labels throughout this career – some of them being Jubilee, Chess, Checker, Coral, Decca, Challenge, Everest, Reprise, RCA Victor, and others.
Baker has been an inspiration, a mentor, and a friend to all of us – his fellow members of BRC.