Art Grayson was born and raised in Montgomery, Alabama.  He has always had a love of music, a desire for an entrepreneur's career in business, and a need to serve his community.  He was able to combine all of these goals in his educational pursuits at Alabama State University where he studied business and music.  It was also at the university where Art met his wife and life partner for over 45 years, Barbara.  Together they have raised three wonderful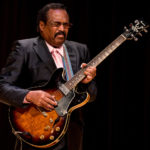 children and are blessed with eight grandchildren.
In the early 1960s, Art dedicated his time and energies to the Civil Rights Movement and its humanitarian principles.  He marched along with Rev. Martin Luther King, Fred Shuttlesworth, and Dr. Ralph Abernathy, becoming an integral part of the movement's issues and plans.
In the 60s and 70s, Art's music career also began to ignite.  He was selected to perform the first all-Black cast on the television show "The Beat" along with such talent as Carla Thomas, Marvin Gaye, Brook Benton, and Diana Ross.  The program aired in Birmingham at midnight every Saturday on channel 6. During this time, his main break came when WLAC DJ Hoss Allen began to manage his career and landing  him the job as second guitarist with Gatemouth Brown's Band.  Later, he would become a part of the original Commodores, leaving the group to form his own band, The Art Grayson Combo.  The band was discovered by Atlantic Records and released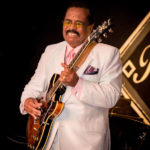 several recordings.  His songwriting and vocal success include such titles as "Oh My Heartache", "Bad Dreams", and "Love Hurts".
After a successful music career, Art turned his attention to his business endeavors moving to Birmingham and opening The Palace Night Club.  Music legends and locals all gathered to enjoy entertainment offered by the club. 
Today, you can find this man of diverse talents and interests serving lunch to Birmingham citizens or in a board room with other civic leaders promoting community development.  He is a low-keyed individual with an obvious love of family and community.  And, as with all of his successes, Art attributes his passion and dedication to the power of God's everlasting grace.
The Birmingham Record Collectors  l  Hall of Fame  l  Class of 2016
"Devoted to the Collecting of Music, It's Preservation and Lasting Friendships"